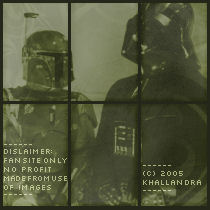 Site best viewed in 1024x768 and above.
Websites linked from this domain are the property of Khallandra. All graphical manipulations are hers and can not be used without her express permission.

Link to me: http://khallandra.net using text "K-Domain" or one fo the following buttons:




May 2005 - version 2.0 of K-Dom was released with the addition of "Viper-X" a Battlestar Galactica site and "Dr Who Media" multimedia for the new Dr Who tv series. June 2005 - 9th Doctor Companions - a fanlisting for the 9th Doctor Who created

Batman Begins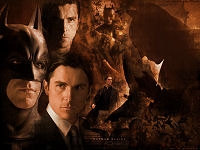 Khallandra started making websites way back in 1998 with a rather dismal case study webpage made for a school project. She quickly became very interested in Mortal Kombat and made her first website on that. In 1999 she expanded this site to include a Star Wars section, mainly a Qui-Gon Jinn page and some fantasy book reviews. These sites all featured frames and black backgrounds and a rather crude menu system.
Soon the frames were ditched and tables were being used when she developed her Lord of the Rings website and an avatar website. When these all outgrew the one location she spread them over a variety of accounts in order to get all the websites she wanted.
Very quickly her domain started spreading and the graphics and designs became more and more complicated and better developed. She realised she needed a central site that could direct to all of her other ones. And 'K-Domain' was born. Version 1 can also still be seen.
In April of 2005 she got her domain name http://khallandra.net and her sites had grown very large in number. She currently makes new layouts and designs for a variety of uses, her own websites, other websites, Live Journal pages and more. She loves developing webpages and thinks it is a great little hobby. Please visit a number of her sites which are all uniquely different in their own ways and not just the subject matter.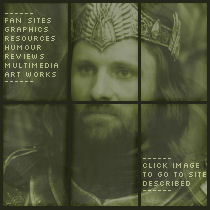 | | |
| --- | --- |
| | Angel of Music is a fan Phantom of the Opera site with reviews, character bios & graphics from the movie staring Gerard Butler. |
| | The Brown Pearl is a Pirates of the Caribbean movie fansite with extensive bios, images, multimedia and more. |
| | The ultimate Lord of the Rings resource, extensive bios & images, book reviews inc. Silmarillion summary + fun xtras. |
| | BBC's new Dr Who series has brought a bunch of new fans, so I made this quaint media resource. |
| | Join the 9th Doctor's fanlisting and become a companion. Join him in any location you can think of. |
| | MASSIVE Star Wars resource, Boba Fett, Jango Fett, Qui-Gon, EU, multimedia, links, character bios EVERYTHING! |
| | Fan of the Mortal Kombat movie and games? Then check out my fansite, it will khallsume you. |
| | Remember the Mummy movies of a couple of years ago? Well this is my site dedicated to them :) |
| | Stargate SG1 & Atlantis episode lists, reviews, character bios and multimedia. |
| | Viper-X is a Battlestar Galactica fansite with bios, episode reviews, quotes & multimedia. |
| | X-Men is one of the best comic book movie adaptations around, visit my fan site dedicated to it. |
| | |
| --- | --- |
| | Avatars, Icons, Banners, Wallpapers from a variety of fandoms and art pictures, all for free download. |
| | A forum for all digital artist, novices to experts. Ask questions & show off your work. |
| | A collection of brushes for Paint Shop Pro 8-9 and Photoshop, free for downloading. |
| | My deviant art account for all my artwork and photographs, inc a stock account. |
| | |
| --- | --- |
| | Fantasy & Historical Fiction book reviews and recommendations of many authors, inc Eddings, Feist, Jordan, Erkison. |
| | Master Elf of Disguise serial written by myself. Have a laugh at this LotR parody. |
| | Complete Star Wars Extended Universe novel listing and reviews of each novel. |
| | Want to learn the Elvish language Sindarin? Then do the lessons written by tinuviel. |
| | |
| --- | --- |
| | Open Source Java Project: private chat, file sending, audio and video all in one program. |
| | My Live Journal account, feel free to check it out and check out my graphics community too. |
| | Contact me with any issues, affiliations, links, questions. |